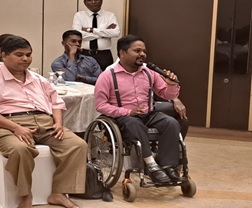 Round Tabale discussion on ensuring and securing Public Sector Jobs for Persons with Disabilities
Round Table Discussion to ensure and secure Public Sector Jobs for Persons with Disabilities
The Human Rights Commission of Sri Lanka (HRCSL), under the patronage of the Chairman of the HRCSL, Justice L. T. B. Dehideniya, and the Commissioners Mr. Nimal G Punchihewa, Prof. Thaiyamuthu Thanaraj, Dr. Gehan Gunatilleke, Prof. Fathima Farzana Haniffa organized a Roundtable Discussion for reviewing and revision of The Public Administration Circular No.27/28 of 1988, which provides 3% quota of available employment in the government sector employment for the disabled. This event was held on July 19, 2023, at the Galadari Hotel in Colombo as part of the Support to Justice (JURE) Project with the United Nations Development Program. Around fifty participants including the Provincial Chief Secretaries, the Treasury, the Public Administration Ministry officials and representatives from various organizations representing persons with disability were in attendance. The Chairman of the Commission emphasized the responsibility of the HRCSL to advise and assist the Government in formulating legislations and administrative directives and procedures in furtherance of protecting and promoting fundamental rights, especially of persons with disabilities and reiterated the commitment of the HRCSL towards that end.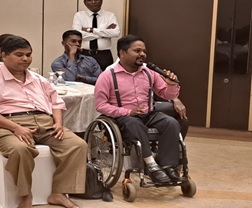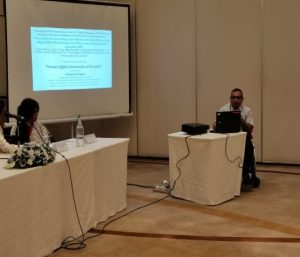 Mr.Tikiri Kumara                                                  Mr. Prasanna Kuruppu
The main resource person Mr. Prasanna Kuruppu of the Sri Lanka Foundation for the Rehabilitation of the Disabled elaborated on the challenges that persons with disabilities are faced with, particularly in gaining employment opportunities. He also mentioned the importance of legal instruments that ensure equal opportunity and treatment for people with disabilities, such as the Fundamental Rights Chapter of the Sri Lankan Constitution, the Universal Declaration of Human Rights, and the 1993 United Nations Standard Rules on the Equalization of Opportunities for People with Disabilities.
The open discussion reflected on personal experiences of the attendees with disability and securing and engaging in employment in the public sector. It also helped to take into account their suggestions. Finally, the Public Administration Ministry appreciated the way the open discussion was conducted and assured their cooperation in revising the Circular, recognizing that there were still serious challenges confronting people with disabilities in their professional aspirations.